»
Some Interesting Facts about Medicare Supplement Plans
Introduction to Medicare Supplement Plans:.
Medicare Supplement Plans are marketed and sold by private Medicare supplement companies, and are much different from Medicare advantage plans (like PPO or HMO). This insurance policy is also known by the name "Medicare Supplement Insurance".
A person enrolled in an original Medicare plan should also be a part of Medicare supplement policy to cover all the out-of-pocket expenses like coinsurance, copayments and yearly deductibles in Medicare.
The insurance market has a vast pool of Medicare supplement plans to choose from. Every insurance company has its own plan and this leads to big differences in the costs of various plans. Although, administered by private companies, all Medigap policies must adhere to guidelines set by Federal and state government to protect the interests of the insured people.

Medicare supplement companies have to clearly mention about the Medicare supplement policies on the front page. Only one person can be covered in a single Medicare supplement plan, and in case of married couple, both husband and wife need to purchase separate policies.

In the market there are many look a-like policies like Medicaid, veteran's benefits, employer's or union's plan, or long term care insurance policy, but they are different from a Medicare supplement plan. So, people must be really careful while picking up a genuine Medicare supplement plan to fill in the gap of original Medicare policies.

Products and Services Covered under Medicare Supplement Plans:
"Standardized" Medigap policies are also sold by Medicare supplement companies; all the policies are given the letters A, B, C, D, F, G, K, L, M, and N to distinguish one from the other. All the standardized insurance companies are required to provide the same basic benefits irrespective of the insurance company from which it is bought.
As per regulations, every Medicare supplement company must provide Medicare supplement Plan A in case they are offering any other policy under Medigap. There is no compulsion that the entire Medigap Insurance plan will be available in your state, neither every plan has to have all the basic benefits.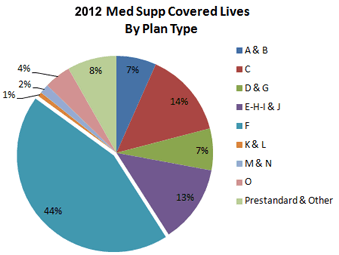 Benefits that are included in the Medicare supplement plans are:
Medicare Part A and part B copayment or coinsurance
Deductibles for Medicare Part A and Part B
Emergency foreign travel
Excess charges in Medicare Part B
Coinsurance for skilled nursing care
Preventive care left out by Medicare (up to $120)
Hospital expenditure for 365 additional days after Medicare benefits are exhausted
When to enroll in a Medicare Supplement Plan?
Medicare supplement plans should be purchased during the open enrollment period. People at or above 65 years of age and enrolled under Medicare Part B, have a guaranteed right to purchase Medicare supplement plan during the first six months after enrolling in Medicare. It is not possible to replace or delay this enrollment period.

Some states may allow people less than 65 years of age to enroll in a Medicare supplement plan. The open enrollment period starts from the first day of the month when you turn 65 and enroll in Medicare Part B. The person has six months leading to it, to enroll in Medicare supplement plan, in this period the Medicare supplement company cannot deny you enrollment in Medigap policy or charge more on the basis of health problems.

The Medicare supplement company should eliminate or shorten the waiting period in case the health coverage pass the Medicare 'Creditable coverage' parameter covering all types of coverage under health care insurance.

Under a creditable coverage there is no break for more than sixty three days in a row immediately prior to buying the policy. Consult your Medicare supplement company to know whether your basic health coverage is creditable coverage.